Electric Avenues:
E-Scooter Firms Forced to Innovate in Bumpy Road for UK Dominance
The UK government is trialling e-scooters in a shift towards micromobility. Robert Scammell looks at the challenges operators face in a fiercely competitive market and how they could shape the future of urban transport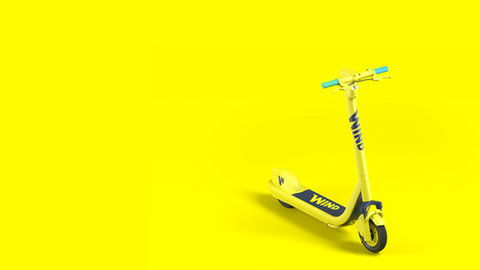 Rental e-scooters burst onto the US market in 2017 and have since spread around the world. But until recently, e-scooter companies were not permitted to operate in the UK.
In late June, the UK government fast-tracked regulations allowing rental e-scooter trials to take place in select locations. Trials will last for a year, with scooters banned on pavements and riders required to have at minimum a provisional driving licence.
The key aim for the trial is to understand whether e-scooters can reduce motor traffic and provide a more environmentally friendly alternative to existing forms of transport – and whether this can be done in a safe way for scooter riders, pedestrians and other road users.
But for e-scooter companies, the trials present an opportunity to gain a foothold into a nascent market that could eventually prove highly lucrative.
Since e-scooter trials were legalised, local councils and combined local authorities have been holding tender processes in which e-scooter firms vie to be the primary operator in the area. There is a lot at stake for these companies, which range from multi-billion dollar giants looking to expand into a new market, to fledgling startups seeking their big break.
Bird, a micromobility company based in Santa Monica, the US, is the largest player in its home country's market. It was also the first to bring e-scooters to the UK back in 2018, as part of a limited trial in London's Olympic Park. In the US, the company competes primarily with Lime, which is also looking to expand into the UK market.
The two American companies – valued at more than $5bn combined – are arguably the largest and most well known in the market. However, they face fierce competition from a swathe of European e-scooter startups for the UK's roads. These include Voi, Tier Mobility, Bolt, Wind, Spin Ginger, Zwings and many more.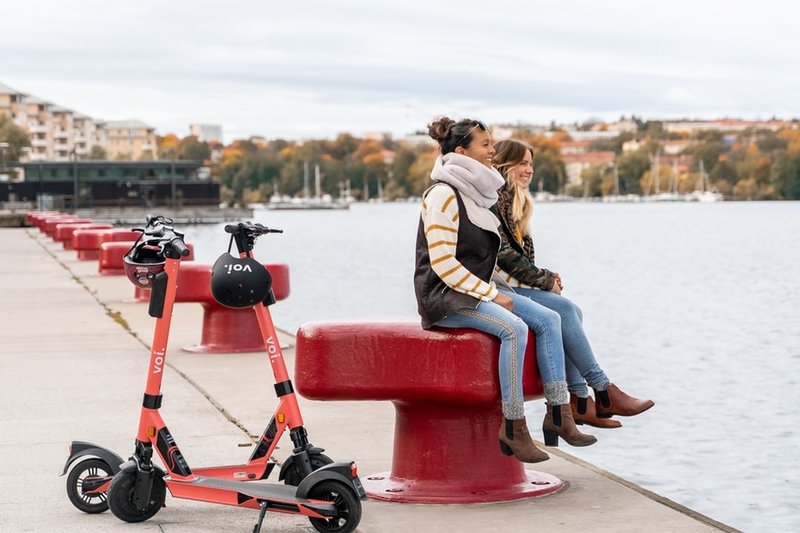 The pros and cons of e-scooters
All operators follow the same underlying business model – a rider unlocks the e-scooters using a mobile phone app for a small fee, usually around $1, and pays an even smaller fee per minute of use. Investors have poured billions into these companies, betting big on e-scooters becoming the future of urban mobility as people increasingly turn towards the sharing economy.
Their benefits are many. They don't emit pollution; they reduce traffic congestion; they are convenient and they are more energy efficient than petrol-powered vehicles. Plus, they're pretty fun.
"The biggest challenge has been vandalism and I think there is every chance this will also make life difficult for the e-scooter companies."
But e-scooters have not been without controversy. Because most e-scooters are dockless, irresponsible riders have been prone to leaving them strewn across pavements after use, creating a hazard for pedestrians – especially for those with disabilities.
This clutter problem became so bad in Paris that mayor Anne Hidalgo was forced to work with scooter companies for a code of conduct with riders, as well as setting up dedicated parking spots. Other cities have been forced to take similar steps.
Oliver O'Brien, data researcher at UCL's Consumer Data Research Centre, says e-scooters will face similar challenges to those faced by dockless rental bikes in the UK in recent years.
"In the UK, the biggest challenge has been vandalism, and I think there is every chance this will also make life difficult for the e-scooter companies too," he says.
"Poor parking by users at the end of their journeys, obstructing pavements and crossings, is also likely to be a significant issue which will make community 'buy-in' harder unless the companies are quick to address reported issues."
The success that e-scooter companies have in promoting responsible use will be key to shaping public sentiment towards the two-wheelers. Too much bad publicity – such as a pair of teenagers riding Ginger e-scooters down a dual carriageway in July – could do long-term damage to public perception.
And despite the environmental benefits of e-scooters, collecting e-scooters for maintenance in a diesel-guzzling truck can completely undo the environmental benefits of their use. As such, making collections more efficient is paramount for operators.
Innovation rises to the challenge
So far, these challenges have been met with creativity and innovation from operators. Fierce competition in what is, at first glance, a fairly narrowly defined business, is great news for consumers. In such a crowded market, each company is forced into new innovations to stand out from the pack.
One area that has received universal focus among e-scooter companies is safety.
E-scooter companies are keen to claim market leadership in what, to consumers, will seem relatively trivial: the thickest wheels, the widest platform and the heaviest scooter. But these metrics all contribute towards making a sturdier – and ultimately safer – ride, which is vital to winning over support from government for full legalisation.
"In such a crowded market, each company is forced into new innovations to stand out from the pack."
A more obvious safety differentiator is helmets. As with bicycles, wearing a helmet while using an e-scooter is not a legal requirement, despite the added safety. The problem for e-scooters is that journeys are taken across short distances, often without prior planning, making it very unlikely for a casual rider to be carrying their own helmet.
To counter this, some e-scooter firms such as Tier and Wind have created foldable helmets that are stored in a box on the frame of the scooter, which is unlocked when the ride begins.
"Every person on every ride has access – for free – to a crash helmet, which is really important because most scooter rides are spontaneous," says Fred Jones, general manager at Tier.
Sustainability is another lightning rod for innovation. Key to this is maximising the lifecycle of a scooter so that it does not end up in landfill after a month or so of heavy use – a problem felt acutely by Bird during its early launch when it relied on consumer scooters ordered in bulk.
Since then, operators have invested heavily into custom builds designed for longevity and easy repairs.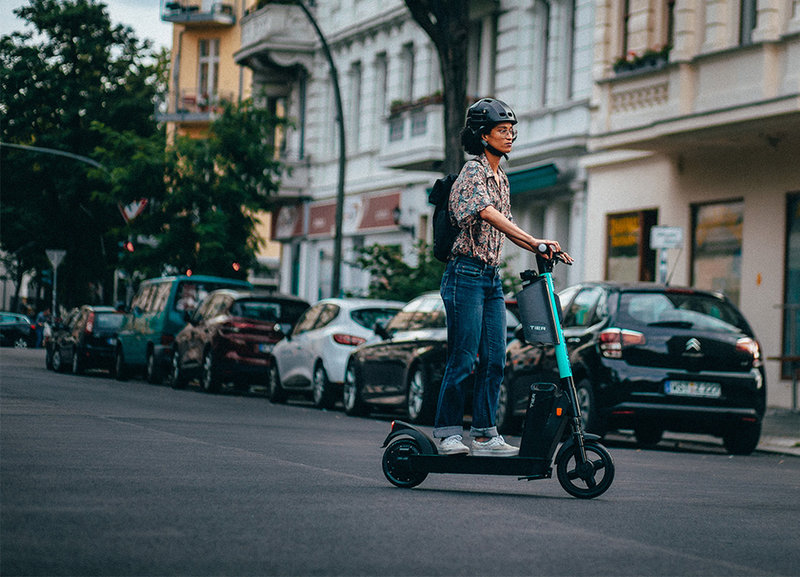 Scooternomics
But all this innovation becomes somewhat meaningless if these companies cannot get one thing right: the economics. E-scooters do not offer a high margin of return and before a company can start to make a profit, each scooter must complete a certain number of rides to recover the cost of its purchase. Each time a scooter is destroyed, vandalised or thrown into a river before meeting its break-even threshold, the company writes off a loss.
Average lifecycles have been creeping up, with Wind claiming its 36 plus months is the longest in the industry.
Sending maintenance staff to collect scooters to return to a warehouse for charging adds additional costs, both in capital and environmental impact.
This has also led to innovative solutions, such as Tier and Wind's shift towards replaceable batteries that bring down these associated costs.
"In such a crowded market, each company is forced into new innovations to stand out from the pack."
Tier has taken this one step further by partnering with shops to store a charging station from which riders can switch batteries with themselves. They are incentivised to change them with free rides, trimming costs even further while maintaining the spirit of the sharing economy.
One aspect that is out of the operator's hands is good infrastructure. The UK has much narrower roads than in the US, with motorists and cyclists notoriously competing for space. Throwing e-scooters into this already crowded, and in parts poorly maintained, infrastructure could prove a significant barrier to adoption in some UK cities.
Going private
Despite the large number of privately owned e-scooters already zooming around cities, it remains illegal to ride an e-scooter outside of the rental trials. But what would full legalisation mean to the business models of rental firms?
"If the trials are successful and show a high demand for e-scooters, I don't see why privately owned e-scooters should not be made legal as well," says Wang.
"Having our own e-scooter production, this could potentially open an additional business opportunity for us."
"Nor would we see this is a threat but more as an opportunity as our custom-built e-scooter is among the safest and most reliable in the industry. Having our own e-scooter production could potentially open an additional business opportunity for us."
Tier's Jones has concerns about the loss of safety measures with privately owned e-scooters, such as geofencing and age restrictions. However, being a climate-neutral company, Tier refurbishes and sells on its e-scooters on the retail market.
Will the trials lead to a long-term micromobility shift?
When trials conclude next summer, how likely is it that the UK's roads will be populated by brightly coloured e-scooters? Perhaps unsurprisingly, e-scooter companies are confident of the trials being expanded into wider legalisation.
"However, the success of the trials depends on operators working closely with cities, as well as users taking responsible actions," warns Wang.
"If scooters are just dumped on the streets, cluttering sidewalks and creating more of a nuisance than a benefit, the legalisation will be hard to justify.
"That is why – in addition to taking great care in our own operations – we are looking to work with other operators to initiate joint projects such as street patrols or joint safety and awareness campaigns to educate users on local traffic regulations and the do's and don'ts of e-scooter use."
"There are plenty of companies involved and competition is driving innovation here."
O'Brien is "quite confident" that the trials will be a success and lead to a shift in mobility habits, but echoes some of Wang's concerns.
"It will depend on the skill, flexibility and persistence of each company, but I am optimistic. There are already some very encouraging numbers coming out of the first trial in Middlesbrough, and also the companies that publish live availability data are showing good activity levels," he says.
"There are plenty of companies involved and competition is driving innovation here. It does look like the e-scooter sharing services may have a good take up both by those who would use a bikeshare and also those who want an easy door-to-door personal transportation service which doesn't involve having to pedal.
"There is therefore a real possibility of a long-term shift here – particularly if the trials lead quickly to legalisation of privately owned e-scooters too."
Cover image courtesy of Wind