Growing Sphere of Influence: China's Overseas Tech Investments in Numbers
Some see the flow of Chinese money as a natural biproduct of a globalised economy. Critics see it as part of a soft power move by the world superpower. What is clear is that tech investments have been rising over the past decade and are quietly increasing China's presence in companies. Robert Scammell looks at the data
China, the second largest economy in the world, is one of the biggest investors in technology growth.
It is the biggest spender on domestic deep technology research and development (R&D) in the world, according to a 2019 report by the Boston Consulting Group. It has invested heavily in its domestic companies, such as telecommunications company Huawei. China has also protected young companies from the dominance of Silicon Valley tech titans, banning companies such as Facebook and Google from entering the market. This tech protectionism has allowed Chinese alternatives, such as WeChat and Baidu, to thrive and become giants in their own right.
Now, fearing a tipping of the scales in the battle for technological superiority, major western nations – spearheaded by the US – have pushed back against Chinese technology companies. These escalations have seen Huawei ostracised, TikTok forced into a technology partnership and WeChat banned.
Yet in a globalised world it is difficult to stem the free flow of capital. Despite the efforts of Trump to limit China's presence in the US tech ecosystem, Chinese money has continued to spread around the world.
Verdict Magazine has broken down historic Chinese deals data, collected by parent company GlobalData, to illustrate how China's sphere of influence via overseas tech investments has grown.
The data includes mergers and acquisitions, private equity investments and venture capital funding. From seed round investments to majority acquisitions, all the deals involve Chinese money being pumped into the world's technology companies.
Number of deals involving Chinese cash 2011-2019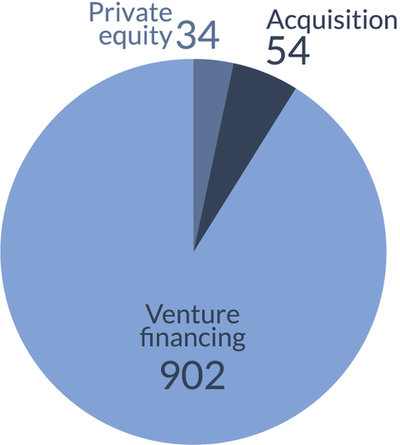 According to the data, Chinese companies have ramped up their investments over the past nine years. While this is no secret, the numbers show which countries receive the lion's share of investment, how the number of deals have grown over time and how the total value of deals have soared during the period.
Total deal value involving Chinese tech investment by year (US$m)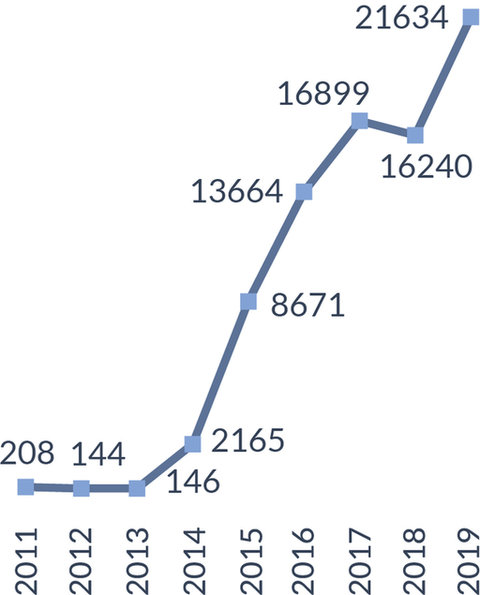 Over nine years, the total value of tech investments involving Chinese cash has grown from $208m to $21.6bn, a compound annual growth rate of 67.5%. These figures include the total investment in tech companies, and are not solely from Chinese investors. However, the data shows that as technology investments have grown larger over the past nine years, Chinese capital has increasingly been involved in the largest tech deals.
Number of overseas Chinese tech investments globally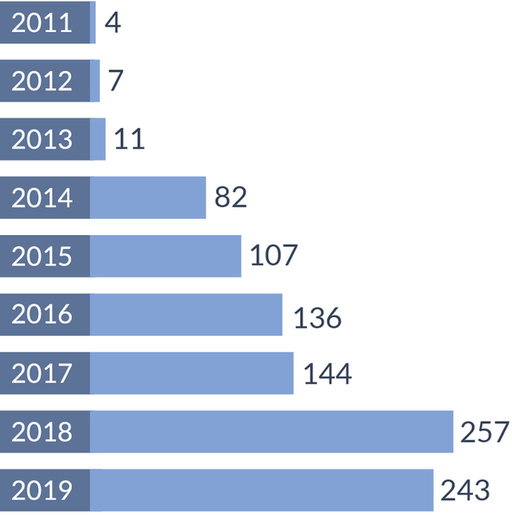 Between 2011 and 2019, the total number of deals involving Chinese investment has exploded by 6,000%, at a compound annual growth rate of 58%. While the decrease in deal volume was slight between 2018 and 2019, there are signs that this downward trajectory may yet continue.
"Despite the strong campaign in the US, there is still much opportunity to invest in tech in many other countries."
Countries around the world have been clamping down on overseas tech investment. In the US, China, Russia and Israel, governments are expanding their powers to maintain tighter control over their domestic technology spheres because of the perceived threat of foreign influence and the fear of rival nations siphoning off intellectual property via investments.
However, Amy Karam, fellow at the Canadian Global Affairs Institute, and author of The China Factor, doesn't expect a global slowdown in Chinese tech investments.
"[Chinese companies] definitely will continue to invest and acquire more intellectual property and knowledge in tech," she says. "Despite the strong campaign in the US, there is still much opportunity to invest in tech in many other countries."
Chinese investment in technology companies located in emerging markets has been limited – primarily because there are fewer innovative startups located in these regions. Where this is the case, China has invested vast sums of money into infrastructure projects to create an environment where these companies grow under the Belt and Road Initiative, which aims to create a China-centric global trading network.
"This is a significant long-term intention of the Belt and Road initiative; building tech business parks in belt and road partner countries gives China first view and potential access to future tech startups and innovation," says Karam.
To its supporters, this is seen as free and open markets in full swing. To its critics, it is seen as a form of neo-colonialism or debt-trap diplomacy.

Chinese Investment in US tech
Number of Chinese tech deals in the US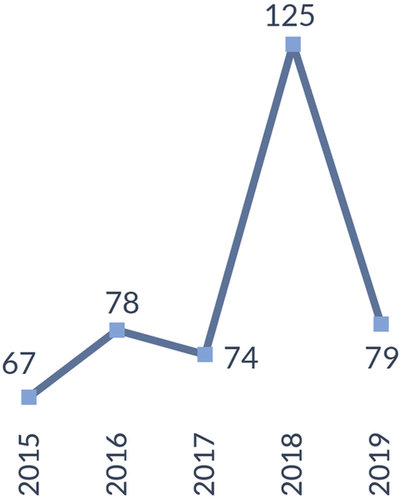 The US has, by far, been the main destination for Chinese tech investments. This is unsurprising, given that America is home to Silicon Valley and has been the leading technology power on the global stage since World War II.
For much of the 21st century, China has been playing catch-up to the US, with Chinese companies facing long-running accusations of intellectual property theft. But what started with imitation has moved to a tight race for technology leadership between the two world powers.
For most of the past decade, China's investments in US technology firms were limited to joint ventures or acquisitions. But as these restrictions were lifted, the number of venture capital flowing from China into the US has grown.
However, President Donald Trump has made it clear that he sees China's overseas tech investments as a threat to American technological hegemony.
In recent years, the Committee on Foreign Investment has stepped in to prevent a number of Chinese private equity deals. In April 2019, the government agency forced health-tech company PatientsLikeMe to find a buyer after it compelled its majority owner from China to divest. In 2018, it blocked Chinese company Ant Financial from buying MoneyGram for $1.2bn, citing national security concerns.
"Trump faces an uphill struggle to scale back China's presence in US tech."
China's foreign direct investment – deals where a controlling stake is made – have been on the decline since 2016, when Trump came into office.
The uncertainty created by this clampdown has seen influential investors based in China, such as Kai Fu Lee, ring the warning bell that the US has become a less attractive place to invest. Despite this, VC funding continued to grow to record highs.
China Investment type in the US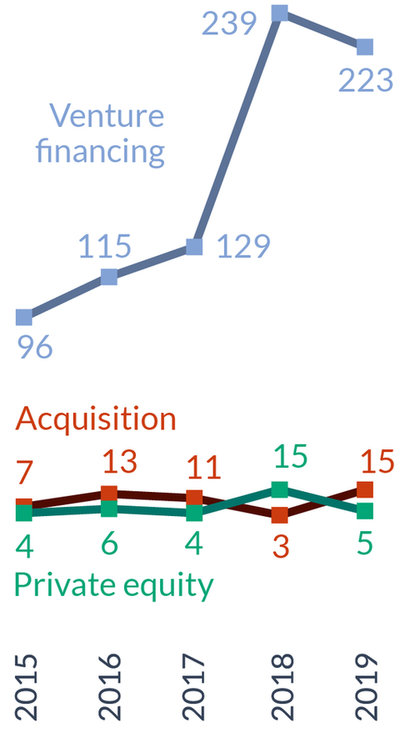 The sheer number of investments, however, shows how Trump faces an uphill struggle to scale back China's presence in US tech. And with the 2020 presidential election around the corner, a victory for Democratic nominee Joe Biden could see a softer approach when it comes Sino-US relations.
China's European investments
Number of Chinese tech investments in Europe*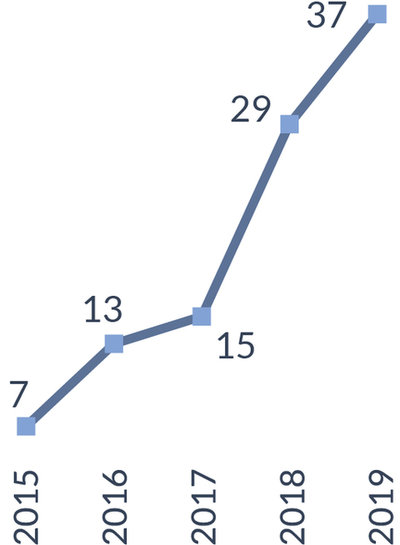 *Countries include the UK, the Netherlands, Norway, Germany, Italy, France, Sweden, Switzerland, Malta, Finland, Ireland, Austria, Spain, Estonia, Belgium, Denmark, Portugal and Iceland.
Europe is home to thriving tech hubs that have produced many unicorns – startups valued at a billion dollars or more – such as Bolt, DarkTrace and Revolut. The swelling value of these startups has coincided with a growing number of Chinese investments. Over the past five years, the number of Chinese tech investments has grown at a rate of 39.5% per year.
"Trump's rhetoric has driven the interest of Chinese and Asian investors towards Europe, but this is a short-run fluctuation."
"Europe has built an academic infrastructure of excellence in many fields, such as deep tech, health and mobility. This is very hard to replicate, and it means the European ecosystem will continue to produce tech startups that are interesting for all global investors, including those from China," says Oliver Holle, managing partner at Speedinvest, a VC fund focusing on seed and early-stage tech startups across Europe.
Deteriorating US-China relations may have also benefitted European tech startups, as Chinese investors look for opportunities less affected by the political tensions.
"Over the last five years, the European startup ecosystem has matured on every level, and this has been noticed irrespective of the protectionist rhetoric coming from both the US and China," says Holle.
"Trump's rhetoric has driven the interest of Chinese and Asian investors towards Europe, but this is a short-run fluctuation that ultimately doesn't say too much about the underlying health of European startups. This underlying health is the true long-term magnet for investors – from China or elsewhere – and is based upon Europe's strong fundamentals of entrepreneurial talent, scientific infrastructure and access to capital."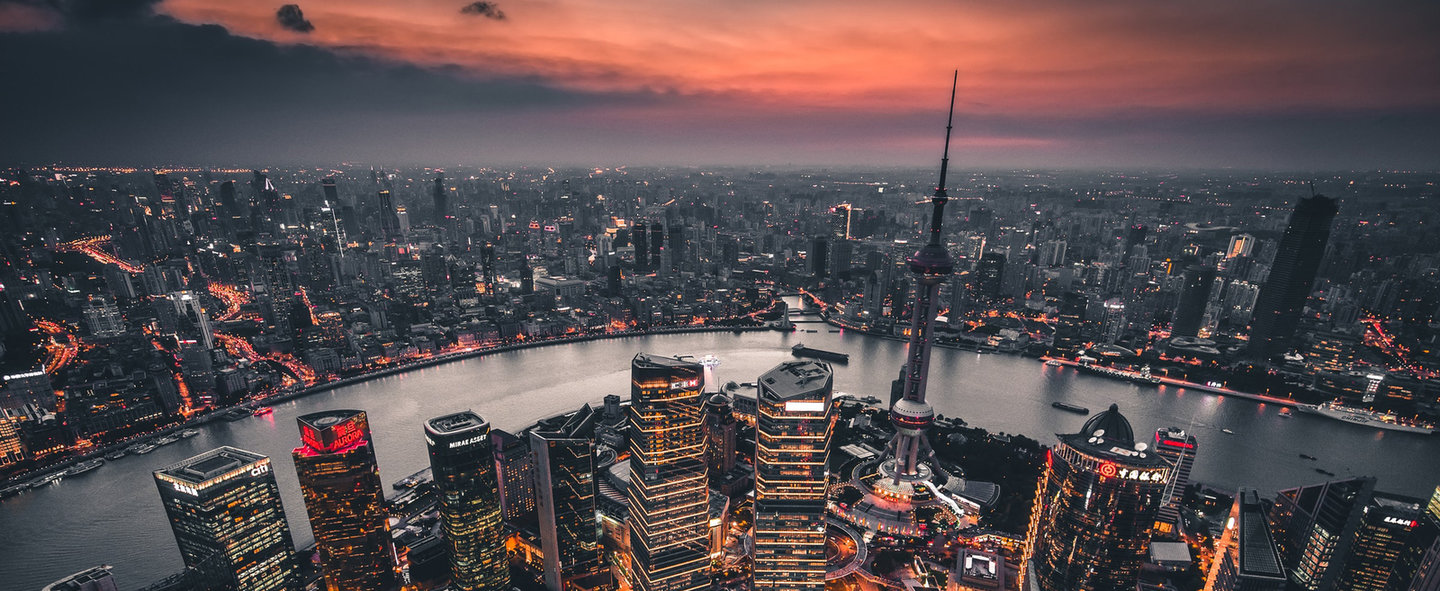 Chinese investment in UK tech
Number of Chinese tech deals in the UK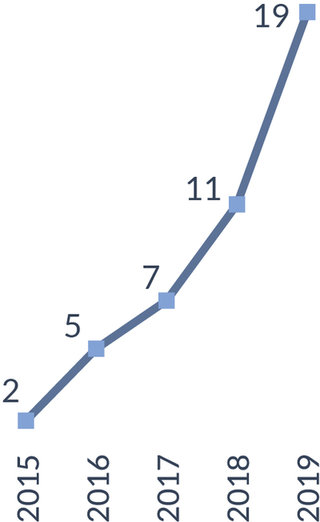 Between 2015 and 2019, the UK has been the most popular destination for Chinese tech investments in Europe. From 2010, then Prime Minister David Cameron was keen to promote a "golden era" of trade and investments between the UK and China. Since he stepped down in 2016, the number of investments has continued to grow.
They include investments in gene sequencing company Oxford Nanopore by China Construction Bank International, while Chinese tech giant Tencent Holdings has invested in several UK startups, including Everledger and Sensat.
"We see such a huge opportunity to use our technology truly as an enabler."
However, UK tech firms have historically been more at risk to foreign takeovers. For example, chipmaker Arm was acquired by Japanese conglomerate SoftBank in 2016, and was this month acquired by US GPU maker Nvidia. Critics saw this as a crown jewel of UK tech being lost and many are keen to prevent something similar from happening again.
"One of the structural problems in the UK is that, once at a certain size, businesses look to exit, often ceding their intellectual property to foreign competitors," Stephen Kelly, chairman of Tech Nation, told Forbes. "This is in stark contrast to the successful US mindset of long-term growth and global market leadership. It's vital that UK businesses are allowed to grow and mature in their own time."
However, the UK's long-running Huawei saga, which ultimately saw the company banned from the country's 5G network, brought to light a growing sense of unease in government about China's role in UK business. Buoyed by their victory in banning Huawei, MPs with concerns about China have voiced concerns about the levels of investment across the country.
In June, the UK government announced that it would increase foreign investment controls for artificial intelligence, cryptography and advanced materials. These measures have been put in place to prevent Chinese companies from taking advantage of the coronavirus crisis to buy controlling interests in struggling companies, as they did during the 2008 financial crash.
"These amended powers will display a significant signal to those seeking to take advantage of those struggling as a result of the pandemic that the UK government is prepared to act where necessary to protect our national security," said UK business secretary Alok Sharma in a statement.
Will the pandemic trigger a drop in Chinese investments?
While the coronavirus pandemic has engendered cooperation between countries in the search for a vaccine, there are also fears that the race to distribute a working vaccine will lead to 'vaccine nationalism'.
This protectionism trend appears to have crossed over into the tech world, with governments in Australia, Canada, the EU, France, Germany, India, Italy, Japan, Poland, Spain, the UK and the US having all increased their levels of scrutiny of foreign investments in the wake of the pandemic.
Trump, stoking anti-China sentiment and appearing to blame the country for the pandemic on multiple occasions, has no doubt played his role in creating a stigma around Chinese investment.
"There has been quite a lot of emotive language used around Chinese investment, and in some cases, an assumption that because an investor is Chinese there must be a malicious or political purpose to the investment," Samantha Mobley, partner at Mobley at Baker & McKenzie, told NS Tech.
For many tech startups, foreign investment is often essential for survival. During the pandemic, struggling companies will be more eager than ever to secure investment to stay afloat. The country from which it originates is unlikely to be of major concern.