Covid-19 has become a topic of choice for cyberattackers
With so many people searching for the latest information on Covid-19, the topic has become very popular with cybercriminals as a means of inflicting cyberattacks. According to data published by Interpol, phishing has been the most popular method of attack within its member countries, with more expected as news about Covid-19 and a potential vaccine develop.
Distribution of the key Covid-19-inflicted cyberthreats based on Interpol member countries feedback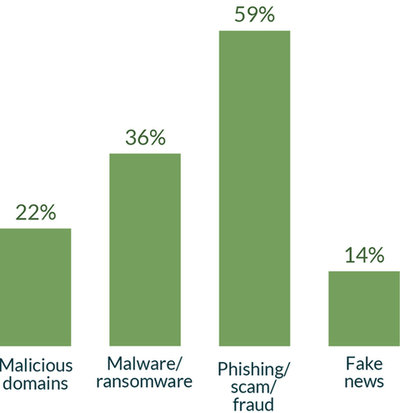 If you haven't had a security breach, you're in the minority
Cybercrime in the UK has seen a significant rise during lockdown, with 99% of UK businesses suffering from at least one security breach in the last 12 months, according to research published by VMware Carbon Black. It also found that 98% of CIOs, CTOs and CISOs reported a rise in attack volumes, with over 90% of businesses attributing a rise to a rise in home working.
"With a mass shift to establish remote workforces, organisations have inadvertently relaxed security or misconfigured devices," said Rick McElroy, cybersecurity strategist at VMware Carbon Black.
"The distributed workforce has introduced changes for security professionals as well, who are now on the frontlines of enabling and securing newly distributed workforces."
Ransomware is on the rise
Ransomware attacks have become the attack method of choice for cybercriminals, showing an overall increase of 20% compared to 2019, according to the mid-year update to the 2020 SonicWall Cyber Threat Report.
2020 Global Ransomware attacks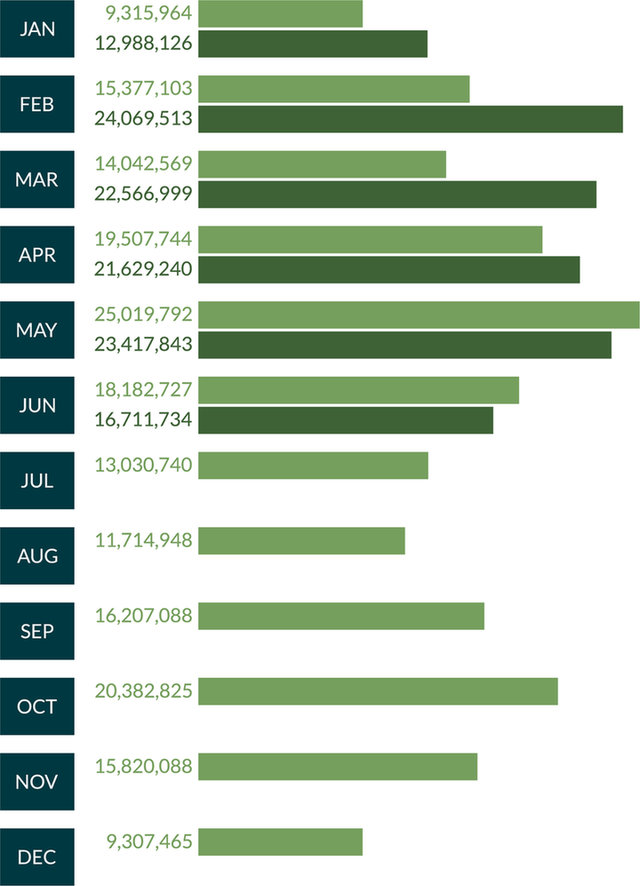 More than half of businesses are turning to outsourcing
According to digital risk protection company Skurio, more than 50% of UK businesses are now turning to outsourcing to meet the cybersecurity challenges they face.
"We're facing exceptional circumstances in terms of working practices and how we need to manage cyber threats, and this is placing significant pressures on businesses of all sizes," said Jeremy Hendy, CEO of Skurio.
"We know that the luxury of in-house security teams, on call 24/7 to monitor for external threats, is simply out of reach for many organisations. The research highlights the importance of outsourcing to providers who make cybersecurity their business."
Companies are getting tough on poor cybersecurity
Another side-effect of the rise in working from home has been an increase in employees circumventing cybersecurity policies – at least according to 58% UK decision makers polled by Censuswide for Centrify. However, companies are taking steps to put a stop to practices that are against cybersecurity policies and so put them at risk. 55% had either banned or intended to ban the use of personal devices when working from home, and 39% had even dismissed employees for failing to follow cybersecurity policies.
"Inevitably, people have circumvented security protocols; it is quite normal for people to favour convenience and when remote working is forced upon employees, it is only natural to see standards drop," said Jake Moore, cybersecurity specialist at ESET.
"Passwords remain a clear issue for many people and few realise the value of a password manager, but companies must enforce clearer policies and make it easier for their employees to undertake.