- ECONOMIC IMPACT -
Latest update: 18 May 2020
Many economists have cut their GDP forecasts for 2020. The consensus forecast for GDP growth is currently -1.9%
Global economic output will fall by $8.5tn over the next two years, according to the United Nations World Economic Situation and Prospects report
Goldman Sachs estimates the US economy to shrink by 39% in Q2 2020
The EC predicts the EU economy will contract by 7.5% in 2020, but expects a recovery in 2021
Impact of Covid-19 on asset prices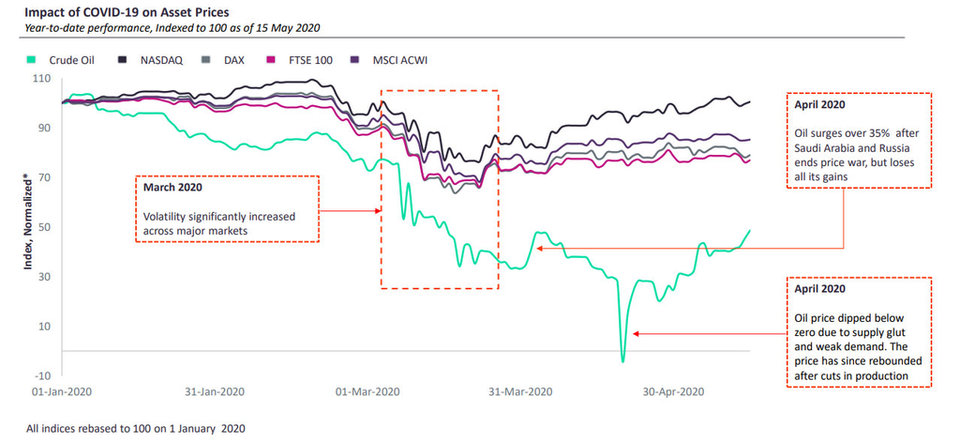 - SECTOR IMPACT: Enterprise Technology & Services -
Latest update: 18 May 2020
False optimism abounds in the industry, and a wake-up call is imminent. Collaboration and other cloud services are growing exponentially, but many other IT infrastructure and services projects are stalled.
IT services are the hardest hit, with many projects delayed or cancelled. Meanwhile, a shift to homeworking has sparked demand in collaboration tools, but there are associated risks with cybersecurity, which are starting to emerge.
Technology companies are not yet reporting job cuts, but hiring programmes have been cut back significantly.
Cut-backs that impact jobs are inevitable at some point.
However, Cisco and other leading tech companies are proactively stating a no job-cut policy, and advocating that position. Nevertheless, many IT services projects are on hold, which will likely impact the industry, while less well-funded start-ups are already reporting job losses.
Supply chain & demand disruption

Apple, Samsung and many others have experienced significant supply chain disruption, and organisations should expect significant supply chain diversification in the medium-term.
Enterprise IT saw a rapid and intense spike in demand for networking and capacity services, collaboration software and cybersecurity.

However, many other IT projects are delayed or cancelled, and enterprise digitisation plans could also be delayed.
IT companies that are normally keen competitors are working together with governments by providing AI, compute and other resources. Meanwhile, cloud service providers are prioritising capacity for healthcare, emergency and education requirements, and enterprise technology and IT services providers are adjusting pricing and offering free services to help alleviate economic pressure.

However, the industry's penchant for hype has led to unfounded claims of using AI to cure Covid-19.
Response to supply chain concerns
The US Department of Defense has initiated steps to keep cash flowing, specifically via the acceleration of payments through prime contracts and expediting payments to subcontractors. The Australian Department of Defense and UK Ministry of Defence have also instigated similar measures to support their own supply chains.
Sub-sector impact of Covid-19