Slack's Time to Shine:
Can It Continue Its Success Post-Pandemic?
The coronavirus pandemic has accelerated the shift to distributed working practices. Workplace communication platform Slack is well-positioned to capitalise from this, but success is far from guaranteed. Robert Scammell looks at what the company needs to do to convert the surge in users into long-term revenue in the face of fierce competition from Google, Microsoft Teams and Zoom
When Slack launched in 2013 it was dubbed the "email killer". Fast forward to 2020 and email is alive and well, if not a little bruised by the workplace communication platform.
The coronavirus pandemic, though, has shaken up the world of work and scattered office-based employees from their traditional working environments and routines. For many, this abrupt change took place overnight.
Enter Slack, with its instant messaging style 'channels' that allow workers to communicate one-to-one, in smaller teams or in larger forums. The software as a service platform has proven critical for many organisations to continue working productively.
"In many ways, Slack was built for this," says Stuart Templeton, head of UK, Slack. "We have always been focused on uplevelling business communication through channels-based messaging – whether teams are in an office or spread out across the world.
"With the pandemic having forced businesses to adapt the way they work, remotely, Covid-19 has simply fast-tracked these conversations onto the corporate agenda. With the opportunity lying in finding new ways to stay connected with teams and keeping work moving forward, we feel that this is our moment to help."
Growth concerns: Users vs profits
The way the pandemic has altered how businesses communicate is borne out in Slack's own numbers. Simultaneously connected users – defined by Slack as the number of people active on Slack at one time – stood at 10 million on 10 March. The following day the World Health Organization declared a pandemic. In the space of 16 days, that figure climbed to 12.5 million – a 25% increase.
But adding new users does not necessarily translate into profits. The firm runs a freemium business model, with paid subscriptions starting from $8 per month per user. Its free tier limits message searches, integrations and other features while its two paid tiers – the revenue drivers – come with all the bells and whistles, such as the ability to automate repetitive tasks in Slack workflows.
"If Slack didn't grow exponentially during this period, when will they?"
Between February and April, Slack added a record 90,000 new organisations on both paid and free plans. It gained 12,000 net new paid customers, more than doubling the 5,000 additions in the prior two quarters.
At a glance, these are impressive gains. But the financial side tells a slightly different story. In its Q1 earnings (for the period ending 30 April) Slack reported revenue of $201.7m. This was above analyst expectations but not quite the dizzying heights the widespread shift to remote working had suggested was coming.
It marked 50% year-over-year revenue growth. But compare this to the previous quarter, ended 31 January while the coronavirus was rarely mentioned, and year-ago growth stood at 49%.
In other words, more people than ever are using Slack, but that has culminated in just 1% revenue growth compared with the previous quarter's year-on-year figure.
"If Slack didn't grow exponentially during this period when will they?" said Dan Newman, an analyst at Futurum Research, speaking to Business Insider.
Converting popularity into profits is just one of the challenges facing Slack at a crucial time for the company. Sensing the lucrative opportunity presented by the changing world, rivals are circling.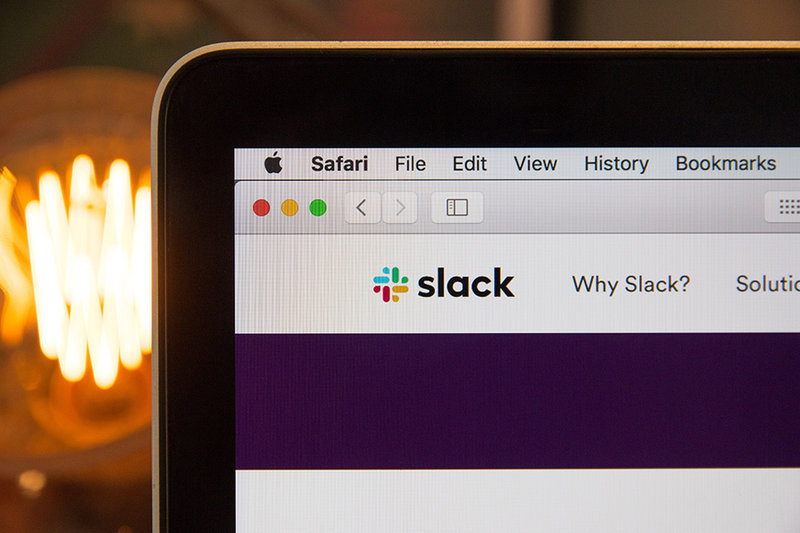 Fending off rivals
Slack faces intense competition from rivals, most notably Microsoft Teams and Zoom. Both have reported impressive growth during the pandemic.
For the quarter ending 30 April, Zoom generated $328.2m in revenue – a 169% year-over-year increase. Microsoft does not break down revenue from Teams, but the company said the number of daily active users grew from 32 million on 11 March to 75 million on 30 April.
"Despite lockdowns driving the usage of work-from-home tools and services, Slack has not been able to capitalise on pandemic-driven quarantines due to intense competition from Zoom and Microsoft Teams," says Rinaldo Pereira, senior analyst at GlobalData.
"Microsoft is perhaps unhealthily preoccupied with killing us."
So, what does Slack need to do to make the most of its popularity and fend off its rivals? For Nicholas Benson, associate research analyst at MarketLine, Slack has to offer more.
"To convert members in its generous free tier to profitable long-term users, Slack needs to do the 'communication' bit of unified communications and collaboration (UC&C) better than competitors who are offering the whole UC&C package," he says.
"It has more experience as an alternative to email, but its diverse competitors' experience with other products and services are the biggest challenge, as well as their financial muscle compared with Slack's rocky stock market history."
He adds that Microsoft and Google users have the advantage of offering familiarity in their user interfaces thanks to their integrations with Office and G suite.
But Stewart Butterfield, Slack CEO and founder, does not view Teams and Zoom as direct competitors to his company.
"There's definitely a sense in which — well, this is how it feels on the inside of Slack — Microsoft is perhaps unhealthily preoccupied with killing us, and Teams is the vehicle to do that," he told The Verge. "But Teams is much more of a direct competitor to Zoom."
Positioning Slack as one of several tools in the enterprise suite, while shifting the rivalry conversation to Zoom vs Teams, is shrewd from Butterfield.
However, it does not change the main challenges facing Slack: converting users into paying customers and keeping them when offices reopen.
Slack's freemium approach removes the cost barrier to entry with the goal of building a user base. If the product is good, the customer upgrades to the paying version. And the numbers show that once people start using Slack they don't stop – it had a 132% net dollar retention rate in Q1.
Future outlook for the future of work
While the pandemic has undoubtedly been a boon for Slack, there is an associated risk that may harm Slack's growth – the impending recession. Businesses pay a variable rate based on how many employees use the service. With hundreds of millions of workers around the world either put on furlough or made redundant already, Slack may end up making less from some customers if the recession ends up being severe.
Further compounding this, businesses will look to scale back costs during a financial downturn. Slack's challenge will be to make its product so integral to business operations that they cannot go without it when cuts are being made.
Like many companies faced with Covid-19 uncertainty, Slack has withdrawn its financial outlook for the rest of the fiscal year. For the next quarter, ending 31 July, Slack anticipates revenue to come in at $206m-$209m. This would represent year-over-year growth of 42%-44%, suggesting that Slack does not anticipate gaining new users at the same trajectory as it did during the height of the pandemic.
Long-term, Slack may be hoping that the changing demographic of the workplace, from so-called digital immigrants to digital natives, will see off workplace email once and for all.
"It's important to remember that Slack has always played a role in helping businesses streamline their communication," says Templeton.
"The way people work today is changing, from messaging environments to a multitude of cloud services, to a more open, dynamic work culture. For example, this year, close to half of the workforce will be millennials, for whom messaging is the norm."
"We have to profoundly change the way we are working together no matter what."
Slack's medium-term success is – in part – tied to the more immediate impact of the pandemic on working habits. Many predict that employees new to remote working will continue to work primarily from home even when offices reopen. Some, however, believe that this prediction has been overstated.
Others, including Templeton, predict a "hybrid" approach.
"With the workforce likely to become much more hybrid – with some companies shifting completely to remote work and others offering greater flexibility – yes, we do see remote working as part of the future of how we work," he says.
"And we are confident that the greater transparency, alignment and collaboration that channel-based messaging delivers will help to enable this new way of working."
"Passionate discussions have been happening everywhere," adds Templeton. "We believe there is an enormous opportunity to level up – not because distributed work is inherently better, but because we have to profoundly change the way we are working together no matter what."