- ECONOMIC IMPACT -
Latest update: 7 July 2020
GDP estimates of top ten economies all trend downward. Many economists have cut their GDP forecasts; 2020 consensus forecast for world GDP growth is currently -4.2%
Historic numbers of people apply for unemployment benefits in the US; unemployment continues to rise. Few employees want to return to offices full-time; most employees want to work remotely full-time.
The IMF predicts global growth will decline by 4.9% in 2020. It expects the Chinese economy to grow by 1% and the Indian economy to contract by 4.5%.
The World Economic Forum believes de-globalisation will occur post-Covid-19. World trade is expected to contract between 13% and 32% in 2020
Impact of Covid-19 on asset prices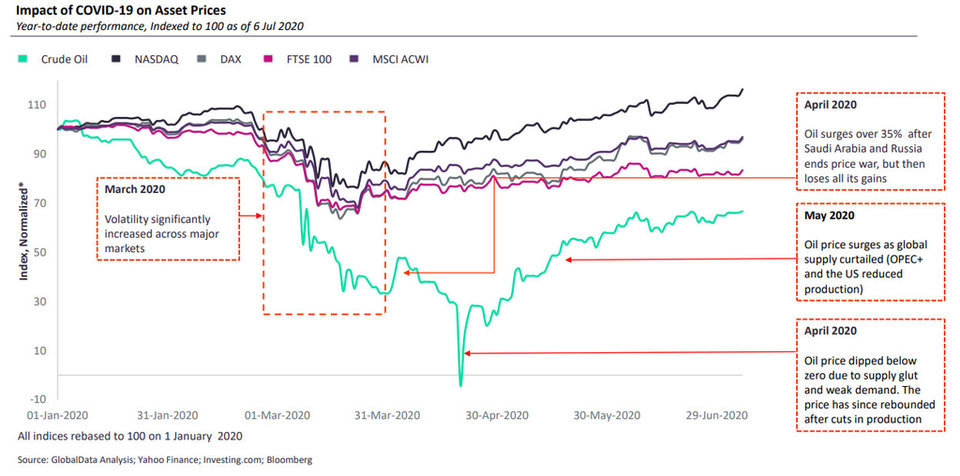 - SECTOR IMPACT: Enterprise Technology & Services -
Latest update: 1 July 2020
Real revenue impact is still unclear and inconsistent. However, companies are preparing for a downturn in planning.

Cloud services are growing exponentially, but many other IT infrastructure and services projects are stalled. IT services are the hardest hit as projects are re-evaluated.

A shift to homeworking has sparked demand in collaboration tools. However, there are associated risks with cybersecurity.
Some enterprise technology companies are reporting executive pay reductions and scaled-back recruitment, but wide-scale Covid-19- related job cuts have not yet materialised.

Cut-backs are inevitable at some point in certain areas.

Conversely, Cisco, Salesforce and other leading tech companies are proactively stating a no job-cut policy, and advocating that position. But many IT services projects are on hold, which will likely impact the industry. HPE, for example, has announced pay cuts lasting several months.
Supply chain & demand disruption

Apple, Samsung and many others have experienced significant supply chain disruption. Expect significant supply chain diversification in the medium-term. Enterprise IT saw a rapid and intense demand spike for networking and capacity services, collaboration software and cybersecurity. However, many other IT projects are delayed or cancelled. While tactical enterprise digitisation efforts surged as a result of Covid-19, more ambitious plans could be delayed by 2 to 3 years.
IT companies that are normally keen competitors are working together with governments by providing AI, compute and other resources.

Meanwhile, cloud service providers are prioritising capacity for healthcare, emergency and education requirements, and enterprise technology and IT services providers are adjusting pricing and offering free services to help alleviate economic pressure.

Response to supply chain concerns
The US Department of Defense has initiated steps to keep cash flowing, specifically via the acceleration of payments through prime contracts and expediting payments to subcontractors. The Australian Department of Defense and UK Ministry of Defence have also instigated similar measures to support their own supply chains.
Sub-sector impact of Covid-19