Kate Brandt, Google Sustainability Officer:
A Green Recovery is "Absolutely Critical"
The post-pandemic recovery is heavily reliant on technology, but there are also considerable opportunities to improve environmental efforts. Lucy Ingham hears from Kate Brandt, chief sustainability officer at Google, about how technology can play a role, and why environmental efforts are more essential now than ever before
One silver lining in the otherwise hellish reality that has been the pandemic is the impact it has had on the environment.
Many parts of the world have seen an unprecedented decline in air pollution, with a 17% drop in daily global carbon emissions in April that experts predict could see annual carbon emissions drop by 7% – the biggest fall since the Second World War.
But this may be short-lived. As economies re-open, industries are re-starting with renewed vigour, and a shift in attention away from the environment and onto health and the economy has prompted many to fear that the rebound will undo any environmental positives that the lockdowns have caused. Early signs suggest this may already be happening, with May seeing the highest concentration of carbon dioxide recorded in the atmosphere in human history.
However, as the world reopens, there is a strong sense of renewal and change on the horizon. Many parts of the economy are reopening forever changed, and fresh ideas are being explored on everything from policing to shopping. There is, then, a serious opportunity to firmly embed better environmental practices into the way the world operates.
"We would never say that this kind of crisis is the way to solve an environmental challenge, but I think what it's done is shown people that actually things can be different," says Kate Brandt, Google chief sustainability officer, during a press conference at Collision from Home.
Brandt notes that while there have been serious challenges amid the coronavirus, Google data demonstrates a growth in interest in sustainability among consumers during this period.
"One insight that we have gained that is really critical in this time of Covid, when so many people have been home, is that according to Google Search trends, in the 90 days that led up to Earth Day, so back in April on April 22, interest in how to live a sustainable lifestyle increased by 4,550%," she says.
"And this insight for us was critical in understanding how people are thinking about sustainability in these extraordinary times that we're living through."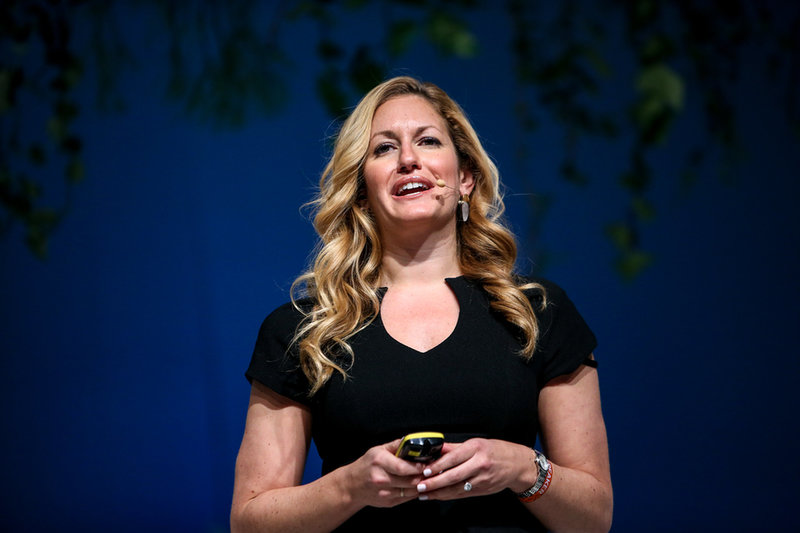 Kate Brandt, chief sustainability officer, Google. Image courtesy of Web Summit
Rebuilding with an environmental agenda
In her role as chief sustainability officer at Google, Kate Brandt is in charge of ensuring that one of the world's biggest technology companies is operating in a sustainable manner. And while she argues that Google has already made considerable efforts on this front, including operating as "a carbon-neutral company since 2007", she does see opportunities during this period of rebuilding.
"Green recovery is absolutely critical from my perspective, and I think that green jobs can play a really important role," she says, pointing to the importance of renewable energy projects, and in particular the clout that corporate buyers can bring to this space.
"We're the largest corporate purchaser of renewable energy, and have matched 100% of our energy with renewables for the last three years in a row. And that procurement of renewables has enabled over $7bn in energy infrastructure to be built around the world, as well as the thousands and thousands of associated jobs.
"Climate change is a critical and pressing global issue, and it requires the engagement of policymakers, businesses and individuals."
"[That's] a great indicator of the power of corporate renewable power buying and more broadly, building a clean energy economy and the job creation that can come with that."
However, she also sees the global move towards sustainability as something that needs "everyone's engagement".
"Climate change is a critical and pressing global issue, and it requires the engagement of policymakers, businesses and individuals," she says.
"But certainly, I think as we as we look ahead to Covid recovery, given the scope and the magnitude of this crisis, we cannot afford to do otherwise. And climate action will remain absolutely critical over the next decade."
Google: Using technology to improve sustainability
Beyond renewables procurement, Brandt sees technology and sustainability having a strong, collaborative role.
"We're particularly interested in where sustainability and design meet technology," she says, pointing to the role of artificial intelligence (AI) as one area where she sees Google making particular strides in improving the environmental credentials of its data centres.
"We we run data centres around the world that make all of our products – search, Gmail, YouTube and the rest – available 24 hours a day, seven days a week. And so we're constantly thinking about how we design and operate those data centres to be as efficient as possible," she says.
"One of the more recent initiatives we've had has been around using machine learning and specifically [applying it to] the cooling system in the data centre where a lot of energy gets used."
"We're particularly interested in where sustainability and design meet technology."
Here Google is using "an AI-powered efficiency recommendation system" that both reduces the company's power demands and cuts operating costs.
"It takes data around power or temperature or pump speeds, and it's enabled us to drive a 30% increase in efficiency in that system," she says.
"So that's been a great design-meets-the-role-of-technology-and-AI solution for us, and now we're excited to think about how we can bring this technology forward to our clients as well."
This, supported by a number of other efforts, has meant that while the compute power of Google data centres increased by 550% between 2010 and 2018, the amount of energy consumed only grew by 6%.
"So nearly flat, not truly flat, but a very, very small growth in energy use compared to compute."
Taking on air quality
Another area that Google is contributing to efforts on is air quality, a topic that has received considerable attention amid the pandemic.
Aside from the role it plays in emissions, poor air quality is a direct contributor to deaths, and can have severe impacts on childhood development. And with the world in lockdown, it has notably improved.
"There have been very near-term benefits that people have noted," she says.

"Essentially, there's less nitrogen dioxide in the air with people commuting and travelling less and what we've started to see is, of course, those benefits are going to be short-term."
Here, however, Brandt sees the scale and quality of data that Google is able to produce as being beneficial to ongoing efforts to improve air quality.
"Something that's really important to us at Google is how we can utilise our data and our platforms to provide insights during this extraordinary time, because we can see how air quality has changed," she says.
"We see such a huge opportunity to use our technology truly as an enabler."
"How can we do this in ways that are going to be particularly useful for policymakers and for communities as they're looking to drive change. And we've seen some of the key air quality mapping taking place on top of Google Earth Engine."
This has seen numerous organisations utilise Google data to provide reliable information about air quality changes, which in turn are prompting changes to policy with tangible real-world impacts.
"We see such a huge opportunity to use our technology truly as an enabler," says Brandt.
This is also moving beyond air quality and into wider emissions data for cities, in order to provide "big opportunities for policymakers" to enact meaningful change.
"Cities represent 70% of global climate emissions, and so we've worked hard to provide data and insights and we've created a tool called the Environmental Insights Explorer that provides building emissions data, transportation, emissions, data, solar potential of rooftops to give cities the tools that they need," she says.
"So I think we've already done some good work in the space but we've truly only just begun and I think there's so much more opportunity for us in the role of enabling through our technology."