Deal activity in the cybersecurity space 2016-2020
Venture capital (VC) funding and mergers and acquisitions (M&A) activity in the cybersecurity space fluctuated during 2016-2020, according to GlobalData.
VC deal volume announcement in the cybersecurity space shrank by 16.5% from 762 in 2019 to 636 deals in 2020 and the deal value declined by 25.6% from US$17.1bn in 2019 to US$10.8bn in 2020.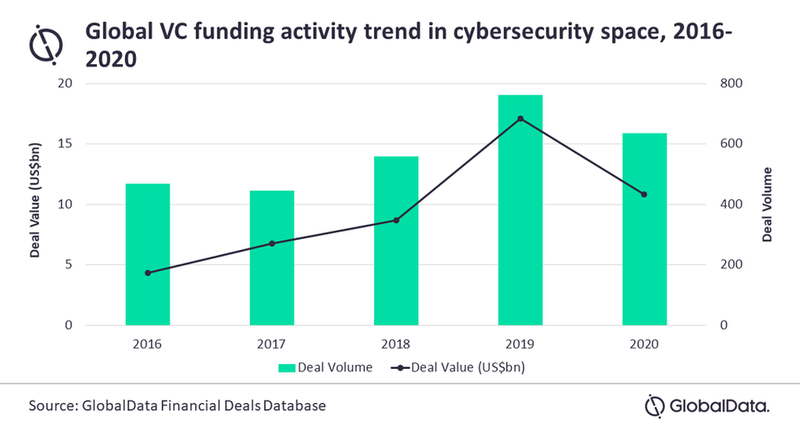 After registering decline in 2017, VC funding deal volume rebounded in 2018 and 2019, before shrinking again in 2020. While VC funding deal value in the cybersecurity space showed consistent growth during 2016-2019, the COVID-19 pandemic reversed the trend and deal value shrank by 36.8% in 2020. Despite this fluctuating trend, the VC deal volume and value increased at a CAGR of 7.9% and 25.6% during 2016-2020, respectively. M&A deal volume and value also increased at a CAGR of 30.9% and 0.2% during the past five years, respectively.
Aurojyoti Bose, Lead Analyst at GlobalData, comments:
"Although COVID-19 impacted deal-making sentiment, the impact was more profound in terms of deal value, which could also be attributed to distressed valuation of assets. However, with increased remote working exposure making organisations more susceptible to cyberattacks, businesses around the world are also working to strengthen their cybersecurity. Considering the extended usage of cyber tools, the future for deal activity in the space looks promising."
The number of M&A deals announced in the cybersecurity space increased by 9.3% from 419 in 2019 to 458 in 2020. However, the corresponding deal value declined by 30.1% from US$52.8bn in 2019 to US$36.9bn in 2020.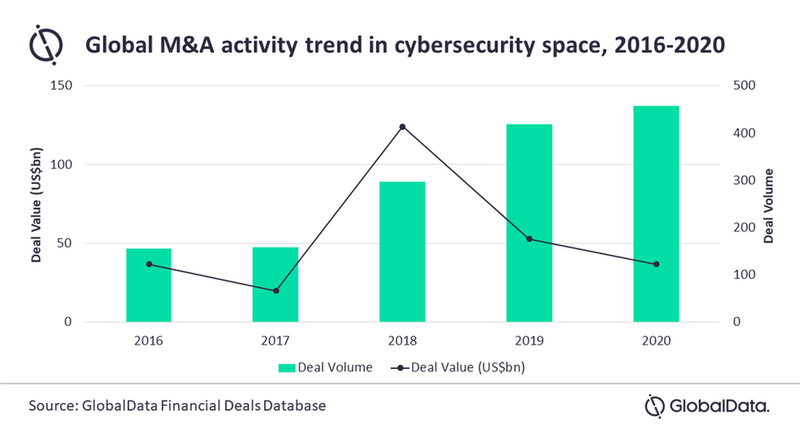 Bose adds: "M&A deal volume in the cybersecurity space maintained its growth trajectory over the years between 2016-2020. Meanwhile, M&A deal value registered continuous decline in 2019 and 2020 after recovering in 2018."
Deals activity by theme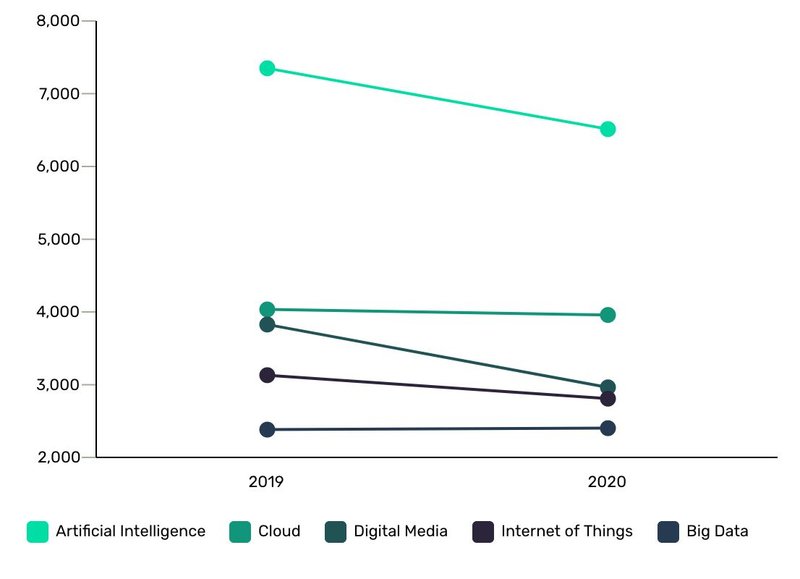 GlobalData's tracking of technology industry deals by Themes, as seen above, reveals that the artificial intelligence sector still reigns supreme, despite seeing the number of completed deals decreasing from 7,359 in 2019 to 6,525 in 2020.
Completed deals in the cloud sector only endured a slight drop from 4,004 in 2019 to 3,968 in 2020. Digital media suffered a fall from 3,141 deals recorded in 2019 to 2,973 in 2020. Internet of things (IoT) deals slid down from 3,141 in 2019 to 2,817 in 2020. The number of big data deals jumped ever so slightly from 2,392 deals in 2019 to 2,411 deals in 2020.
Looking at the total value of deals between 2019 and 2020, it seems as if the IoT sector enjoyed the biggest increase over the 12 month-period. The value of the deals in the sector increased from $134.71bn to $142.95bn between 2019 and 2020.
Deals value ($m) by theme
2019
2020
Cloud
288,865.50
208,939.60


Big Data
188,236.80
165,929.00


IoT
134,711.40
142,954.10


Digital Media
121,776.60
117,168.10


Cybersecurity
105,475.20
110,300.20