The rise of the virtual conference: Can VR save the events industry?
2020 was the year of the video call, with many tech conferences forced to move online due to the Covid-19 pandemic. But could virtual reality be the missing ingredient for the struggling events industry? Ellen Daniel finds out.
2020 was defined in part by rapid and widespread shifts to digital alternatives. Offices, meetings and even social lives took place remotely due to the ongoing Covid-19 pandemic and lockdown measures it brought with it.
International conferences and events, once the staples of the tech calendar, were initially postponed as the virus wreaked havoc. Mobile World Congress became the first major victim, the virus forcing it to close just days before it was set to welcome tens of thousands into the Barcelona conference hall.
Since then companies have replaced events with online versions. Although this shift has largely been a matter of necessity, many are now asking whether the virtual event is here to stay and whether virtual reality (VR) can help recreate the physical conference.
The promise of VR
Virtual events come with clear advantages. They are cheaper to run and therefore cheaper to attend. Attendees can spend more time viewing talks and less time traipsing around the exhibition hall. The only travel required is the distance to your computer.
Yet for all this, online events tend to lack a central appeal of physical events – the networking opportunities, those serendipitous encounters, the human interaction. Zoom can only go so far.
For some, virtual reality is a technology that can help fill this gap.
One company that sees an opportunity to shake up the events industry is Immersive VR Education. The Irish company has been in the VR space since 2014 and has roots in the edtech sphere. From experiencing what it would have been like to be onboard the Titanic, to taking a space flight from the perspective of an Apollo 11 astronaut, the company creates immersive VR experiences that can be used as educational tools.
Like many others the business has pivoted as a result of the pandemic, seeing an opportunity not only in the surge in remote learning, but in digital events.
Immersive VR Education CEO and co-founder David Whelan says that while many companies have successfully moved their events online, capturing the informal networking opportunities is proving challenging for businesses.
"They're using video-based communications where users just log in to the video-based platform and watch presentations from everybody. They're not really interacting with anybody else, they're just watching talks," he tells Verdict Magazine.
The reason people go to physical events is that they go and have these private hallway conversations with people that they meet up with.
According to Whelan, this format makes it harder for organisers to justify charging for online events:
"The reason people go to physical events is that they go and have these private hallway conversations with people that they meet up with. It's going from stall to stall and talking to the sales rep and that's how you really do business – you don't do business by just sitting there watching keynote talks."
The power of VR
Immersive VR Education's Engage platform aims to solve some of the shortcomings of virtual events. Originally designed as a way to enable teachers to interact with students in a virtual classroom through the use of VR avatars, the platform enables event attendees to interact with those around them in a way that wouldn't be possible through video conference alone.
When you log into a virtual classroom there's a virtual version of you walking around the room.
"As you walk around in your real sitting room, your avatar is walking around in the virtual room and you can walk up to the virtual whiteboard and draw on it," says Whelan. "You can deliver PowerPoint presentations on the screen, stream in media from YouTube and you can also bring in 3D objects."
He gives the example of dropping a "massive" virtual dinosaur into the classroom, allowing a class of up to 70 people to interact with it from anywhere in the world.
It's features such as this that offer creative possibilities that aren't available at physical events and could become an important aspect of future virtual events.
"Video call is really not ideal"
In this context, many have speculated whether the Covid-19 pandemic could be VR's breakthrough moment.
Uptake of VR technology has been slow and so far it has failed to achieve mass adoption in the way that some predicted in the technology's early days. But there is some indication that the pandemic may have accelerated adoption as individuals are forced to spend both their work and leisure time within their own homes.
Last year, Apple confirmed that it purchased NextVR and Facebook CEO Mark Zuckerberg recently noted that it's possible the pandemic could accelerate VR and AR adoption, suggesting that Big Tech is banking on it growing in popularity in the near future.
It has also been touted as an alternative to video communication as businesses look for new ways to connect employees. While the likes of Zoom have experienced meteoric growth during the pandemic, some have asked whether video is the best medium for all work-related interactions.
"What we're hearing back from our companies is that video communication is perfect for maybe four or five people so you can have a conversation and get your work done," says Whelan.
"When you have a larger group all working remotely, so maybe a creative group or a design group – and it might be 20 or 30 [people] – then that team having a Zoom call or having a video call is really not ideal because again you're just watching the person who's presenting.
"There's no real interaction. Whoever's presenting has control, people talk over each other and also there's video fatigue where if you're on video call after video call after video call. It can get very tiring very quickly."
There's no real interaction where whoever's presenting has control, people talk over each other and also there's video fatigue.
When it comes to events, some organisations have already chosen to take the VR route. Last year, the Educators in VR Summit took place virtually, using tech from Microsoft-owned software company AltSpace VR to make it happen. In October, Lablaco held its Circular Fashion Summit entirely in VR.

With attendees, in the form of avatars, able to network in virtual conference centres, and in the case of the Circular Fashion Summit even watch virtual runway shows, this gives a glimpse into how events could look in the future.
Of course, VR events existed before the pandemic plunged the events industry into uncertainty, with High Fidelity hosting the first VR festival, FUTVRE LANDS, in 2018. But with the influx in virtual events that 2020 has brought, organisers will need to explore alternative ways of engaging attendees and, importantly, making money.
VR startup Spatial, which has developed a platform where users can work and collaborate in VR while virtually represented by holographic avatars, told Forbes that usage tripled across all headsets in February this year and monthly active user numbers doubled. In January 2020, the company announced it had raised $14 million in Series A funding for its holographic collaboration platform, reflecting investor confidence in VR events.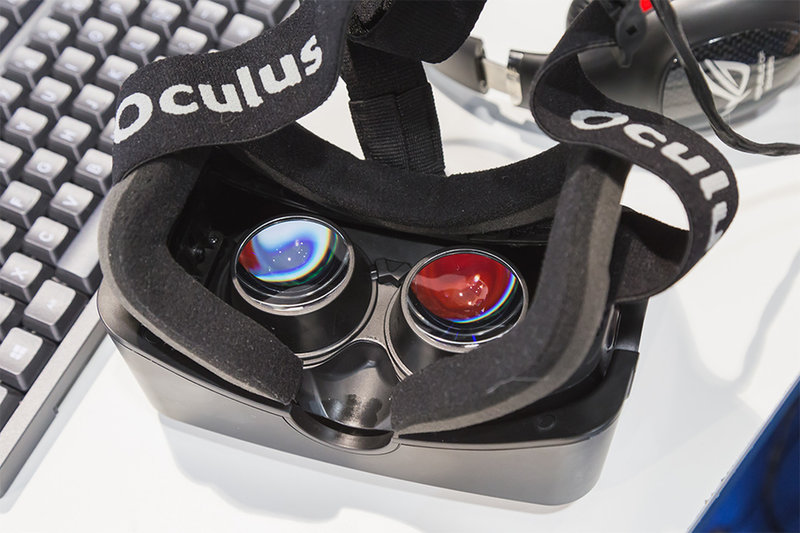 Oculus headset. Credit: Tinxi / Shutterstock.com
A pivot to VR
Whelan explains how the pandemic presented an opportunity for Immersive VR Education to try its hand at virtual events, albeit in a shorter timeframe than it may have expected, thanks to computer manufacturing company HTC.
HTC was due to hold its physical conference in China in March last year, but it was quickly cancelled as the severity of the virus became clear. Whelan got a call from the president of HTC China, asking if VR Education could host it virtually instead.
"Up until that point we'd never hosted any major event on the platform and we said 'yeah sure no problem we can handle it'. And we turned around the event within a matter of weeks. We held the event at the end of March and we had over 1,000 users logged in using virtual reality equipment based all over the country, so half the users were in China half the users were in the rest of the world. We were connected to them very naturally in this big conference centre and we had 1.1 million people watching the live stream."
The event was a success and as a result, HTC contacted the company looking to invest. It is now a partner, owning a 20% stake.
For Whelan, VR events offer a crucial element missing from many digital conferences: the chance to connect with others. But how do you replicate that in a virtual environment?
That's what these video based platforms are really lacking – and that's why many companies are coming to us at the moment to host these events.
One way is via spatial audio technology, explains Whelan.
"If somebody is presenting on the screen, I can lean over to the person next to me and whisper in their ear without disturbing anybody. In a conference you can get up from your seats, if you're watching a keynote talk, you can walk down the hallway, you can have those private hallway conversations.
"We use spatial audio so if somebody is standing next to you they'll sound louder or if somebody is further away you won't hear them at all. You can walk up to a sales rep at a virtual booth and have a conversation with them and that's what these video-based platforms are really lacking – and that's why many companies are coming to us at the moment to host these events."
So far, Immersive VR Education has hosted events for a variety of organisations, from the European Commission, to telecom giants Vodafone and Ericsson, and an event for the United Nations. However, challenges remain for VR events.
The digital divide
One hurdle for VR events to overcome is the headsets themselves. Despite significant advancements, the technology can still be cumbersome, particularly those that are 'tethered' and require a constant wired connected to a powerful computer. They can also require space to move freely without the risk of knocking over a stack of books or vase.
This can be avoided by using a controller to do the navigating. However, all this tech comes at a price – one that has steadily lowered over the years but for some remains an unassailable barrier.
This might go some way of explaining VR's lack of mainstream adoption, which has in turn led to a lack of consumer awareness around the technology. A recent report from Mojo Vision revealed that 75% of those surveyed have never used a VR headset while doing their job, but 78% said that they would be willing to do so if asked by their employers.
The headsets are becoming cheaper, they're becoming lighter, it's $300 now for an Oculus Quest which is a very good headset.
Forging ahead with VR-based solutions without considering those who do not have access to the necessary technology risks worsening the digital divide. However, Whelan predicts that the price of VR headsets will continue to drop significantly, helped in part by the rollout of 5G.
"The headsets are becoming cheaper, they're becoming lighter, it's $300 now for an Oculus Quest which is a very good headset," he says.
He adds that telecoms companies are using VR headsets to help upsell customers from 4G to 5G contracts.
"There's no real need for [consumers] to have a 5G account where they're getting a gigabit connection on their mobile phone," he explains. "However, if you have that type of connection speed on a VR headset it makes a massive difference because you can stream in very high-quality assets."
The shift to digital may also mean that businesses are increasingly willing to experiment with new technology. According to Fidelity, tech spending was up 100%-200% in 2020 compared with 2019, indicating that businesses may have the means invest in new hardware such as VR headsets. Deloitte predicts that 19% of UK companies invested in VR an AR in 2019, with an additional 31% expected to invest by 2021.
Changes to the world of work
If the use of VR does indeed become more ubiquitous, Whelan believes that it could become a common feature of the post-Covid working environment. He points to long-term remote working policies of companies like Facebook, Twitter and Microsoft being a big money saver for organisations.
Short-stay business travel will decline, he says: "I think that those days are also gone."
For the events industry, the year ahead will be defined by continued uncertainty. While some major events have indicated that they intend to go ahead with physical conferences, with European tech conference Web Summit planning a return to its Lisbon location, there are many others who are focusing their attentions on virtual events for now.
Regardless of the speed at which individuals will return to physical events, it is undeniable that 2020 has had a lasting impact on the extent to which organisations prioritise the digital experience they are offering.
Instead of saying 'I'll Skype you later or I'll Zoom you later', we want people to say 'I'll Engage with you later'
With the future of work looking like it will take a hybrid approach, combining virtual with in-person interactions, VR technology may carve out a role for itself.
"With our Engage platform, we see it as a next-generation communication tool," says Whelan. "Video-based communications are here at the moment and they're doing very well. The next thing is going to be immersive communications. When people talk about online communication in the future, instead of saying 'I'll Skype you later or I'll Zoom you later', we want people to say 'I'll Engage with you later'. That's where we want the platform to be."
Main image credit: betto rodrigues / Shutterstock.com