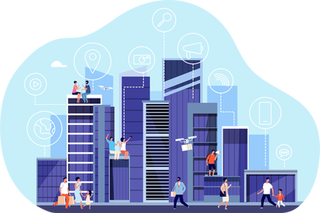 Spring has always been a time of transformation. Trees and flowers are bursting with colour after a long winter. The sun is slowly changing freezing morning runs into enjoyable excursions.
This year, the feeling of change is more palpable than ever. In the UK, we are – little by little – coming out of our third lockdown. Beer gardens, barbers and gyms are all opening up. We can see the people we love again.
But while my own reunions have been very enjoyable, I caught myself looking around London with new eyes – and not just because I've missed the city during the last bout of social restrictions. No, I've become more aware of the often invisible systems controlling cityscapes and the cameras lurking on street corners.
That's mostly due to the Verdict magazine team spending the past month on an issue with a smart city theme. Smart cities are taking the internet of things into hyperdrive, with connected devices improving everything from city planning to journey aggregation, all thanks to the information flowing from them. Starship may've built its city on rock 'n roll, but the smart cities of today are constructed on mountains of data.
Smart cities are also big business. We look at how Big Tech is increasingly creeping into cities and why that might be. Flying taxis are big business now, with multibillion-dollar flotations now in the pipeline, but even so we may be waiting a while to hail an electric lift from rooftop to rooftop.
Meanwhile in China, the smart cities have become surveillance panopticons, used by the state not only to monitor the people but to modify their behaviour as well. Now, privacy advocates fear the same may happen in the West, a topic I explore in this issue.
Read on for all of this plus the usual in-depth analysis and comment in the latest issue of Verdict Magazine.
Eric Johansson, editor